---
06
---
Fading

Echoes from the past
21.7.2023–25.8.2023
---
Michael Koch ︎ Karl Salzmann
with live sound performance by Karl Salzmann
---


In der medienübergreifenden Ausstellung "FADING - Echoes from the past" verweben Michael Koch und Karl Salzmann ihre sehr persönlichen Erinnerungen an ihnen nahe gestandene Personen.

Akribisch gesammelte und geordnete Science-Fiction-Bücher, Miniaturskulpturen, Bilddokumente von Fernreisen, animierte Computergrafiken und eine Keramik-Manteltasche: all diese Dinge werden zu eigenständigen Entitäten, die im Rahmen der Präsentation versuchen, Geschichten zu erzählen, Fakten darzulegen und Verbindungen untereinander - aber auch zu den Besucherinnen - zu etablieren.

-
In the cross-media exhibition "FADING - Echoes from the past", Michael Koch and Karl Salzmann weave together very personal memories of people close to them.

Carefully collected and ordered science fiction books, miniature sculptures, image files from long-distance journeys, animated computer graphics and a ceramic coat pocket: all these things become entities in their own right, which in the context of the presentation try to tell stories, state facts and develop connections with each other - but also with the visitors.
---
︎ karlsalzmann
---
05
---
Footnote on a Neuron Scream
15.6.2023– 14.7.2023
---
Sound collaboration with
Új Bála
---


"...Pain. First, a sharp, self-screaming neuron. Then the warning signal begins - by forming a chorus of others, to echo, to scream the pulsating need for attention. The pain, the feeling spreads, pours out, overwhelms everything, like a dark overflowing stream. Thus, there will be a mass rebellion in this Body, a symptom of the boycott."

If you look at the art object as an extension of human perception, the monologue of the video serves here as a temporary fusion of You and Me. As a footnote to the hard-to-model system that shapes a series of our behaviors, emotions and decisions into a unique whole, discotec invites you to sit down and merge into this speculative journey.
---
︎ nimova_projeckt
︎ Új Bála
---
04
---
O RAMBO
2.6.2023– 9.6.2023
---
EIN HÖR- UND SEHSPIEL

von
Marie Sturminger & Felix Dennhardt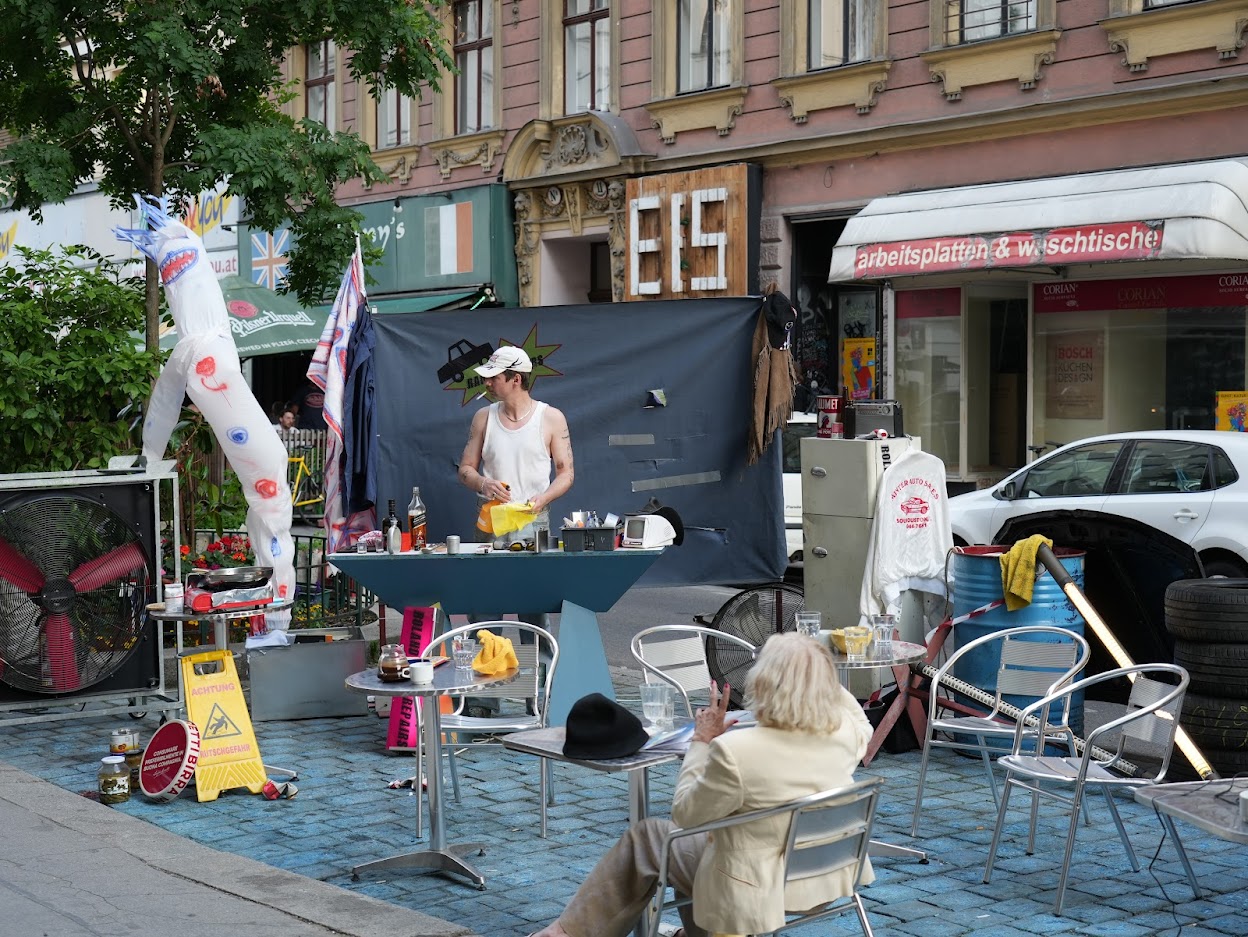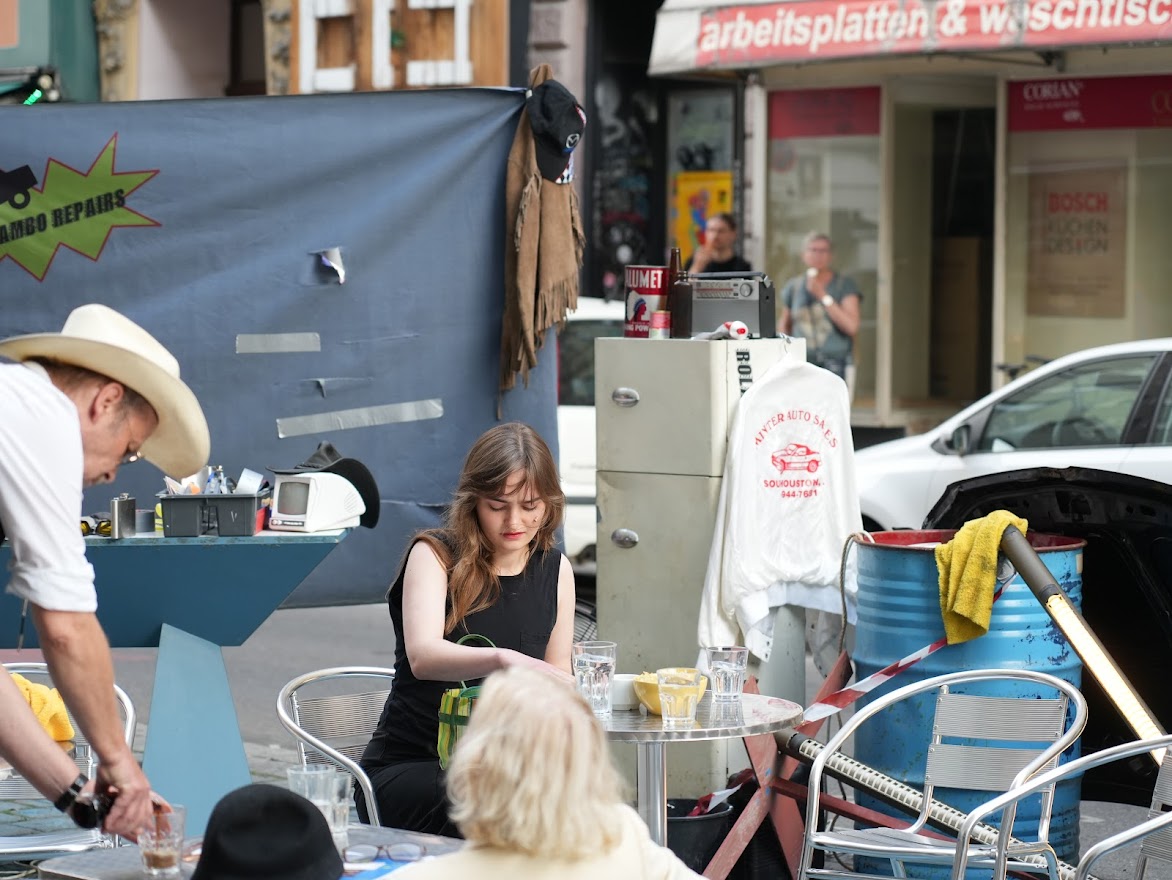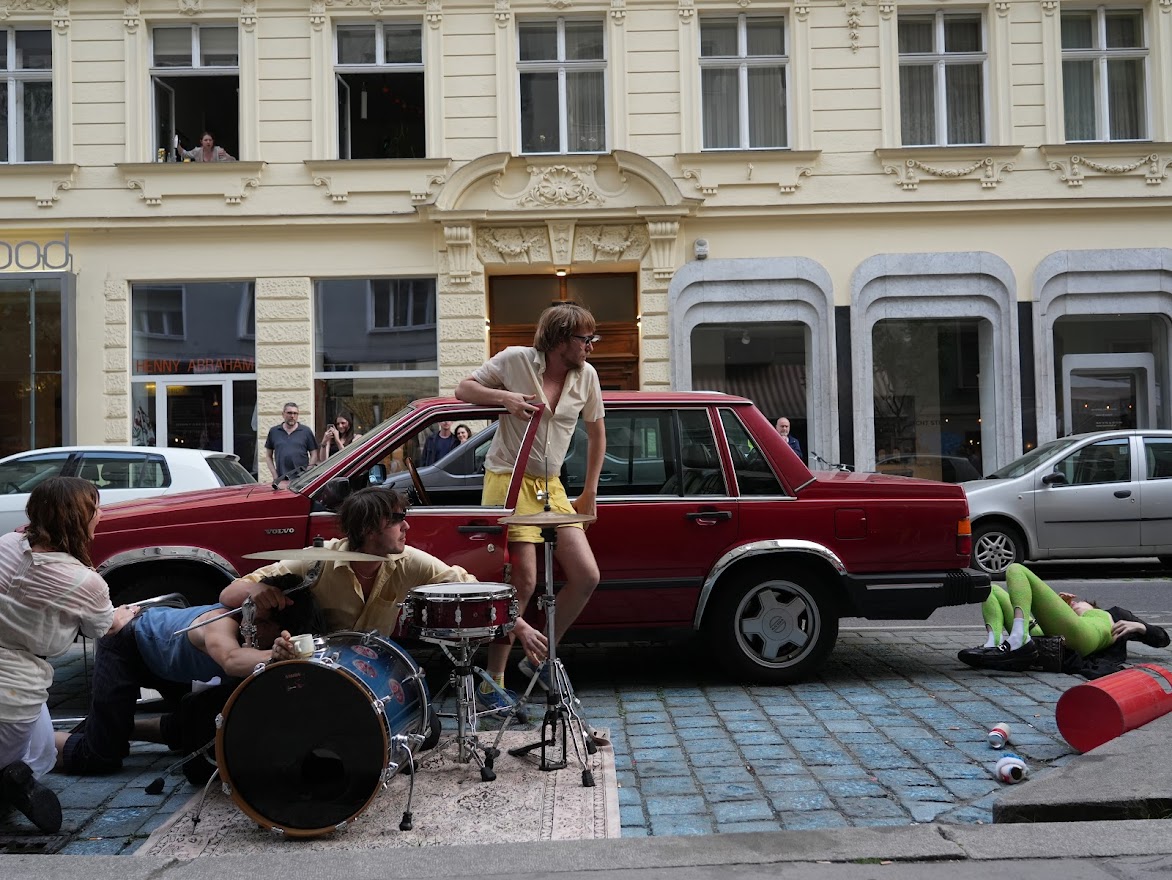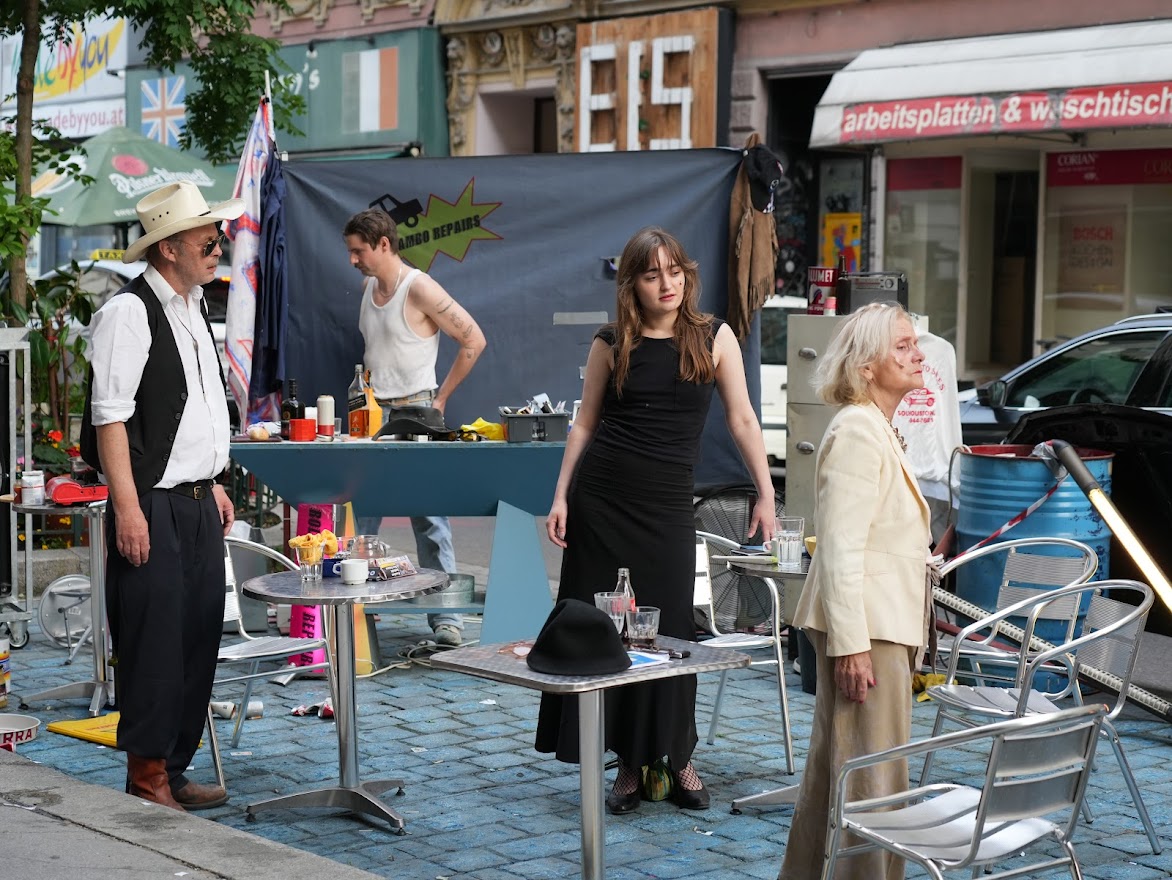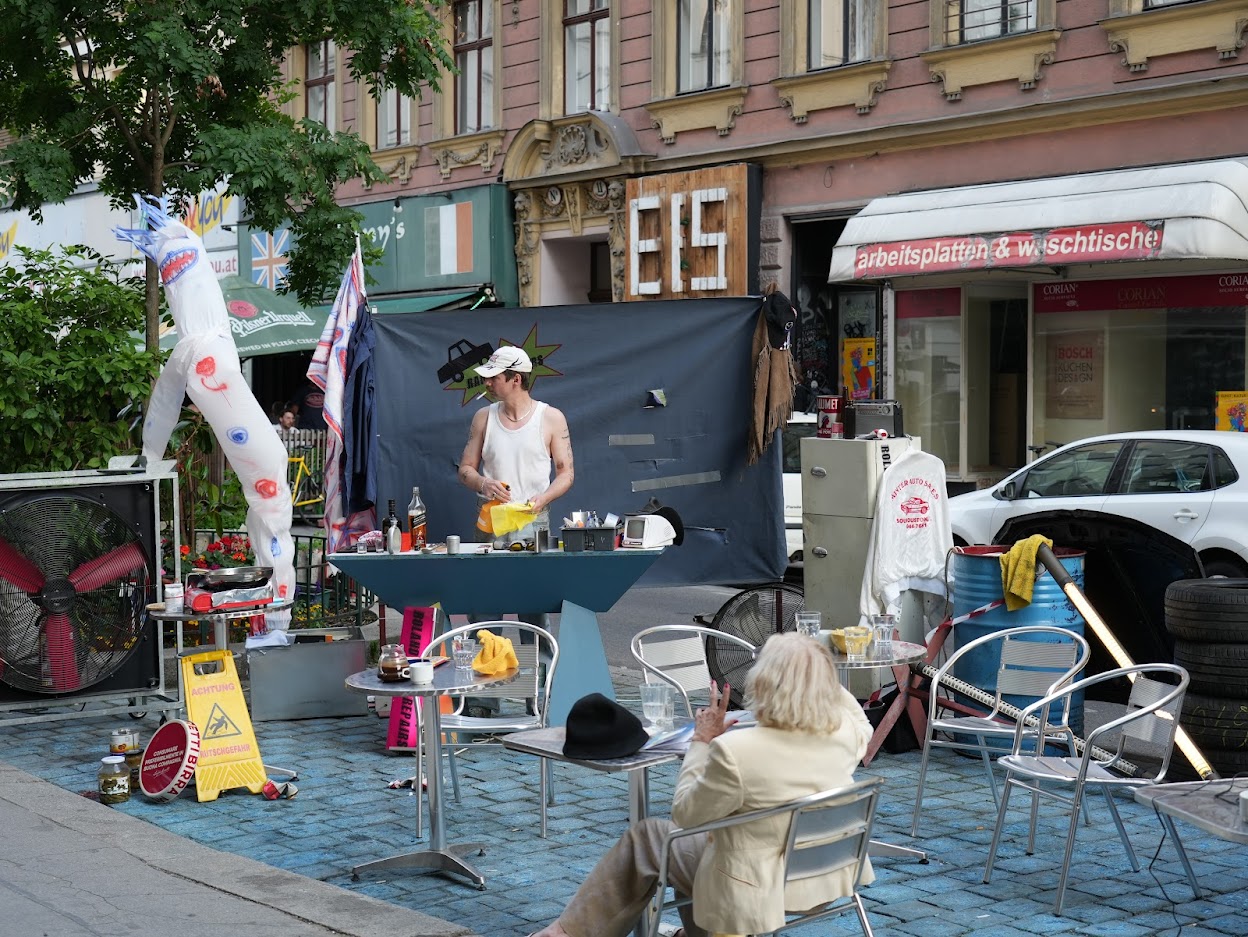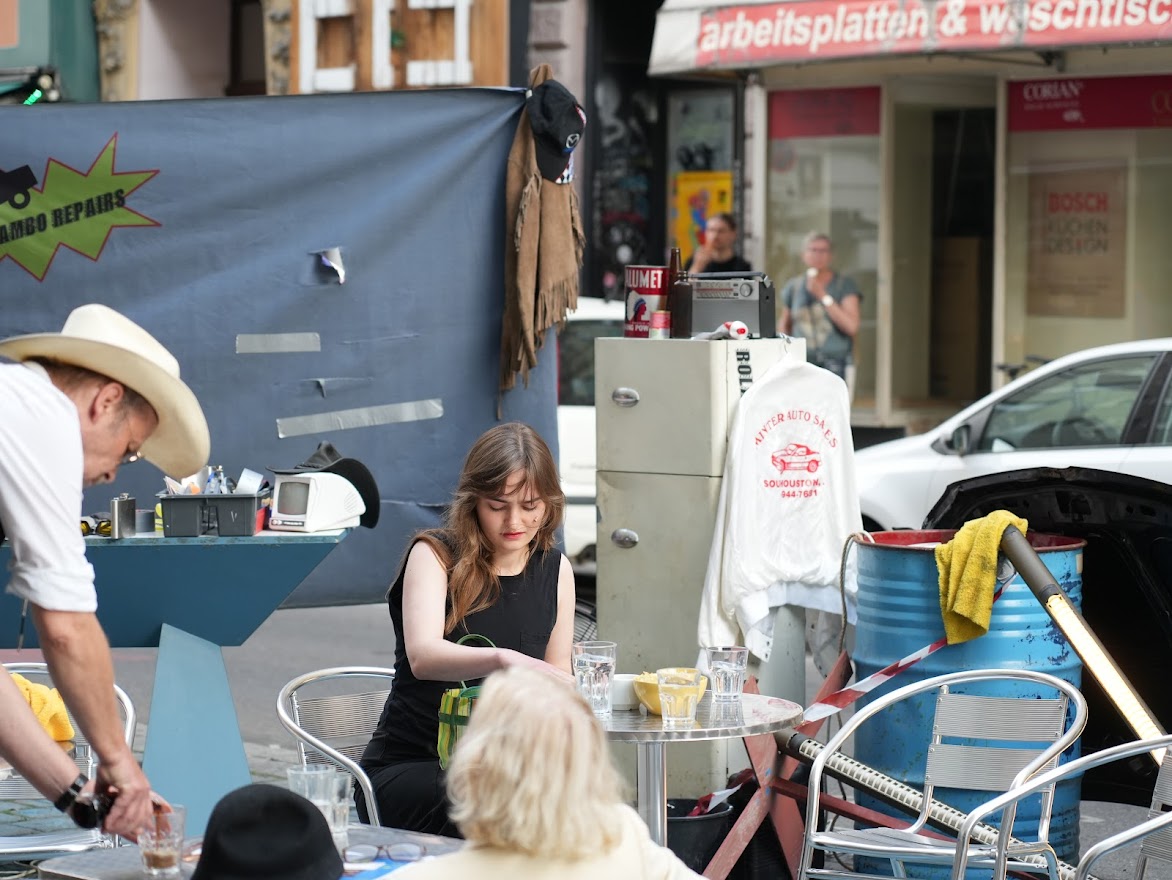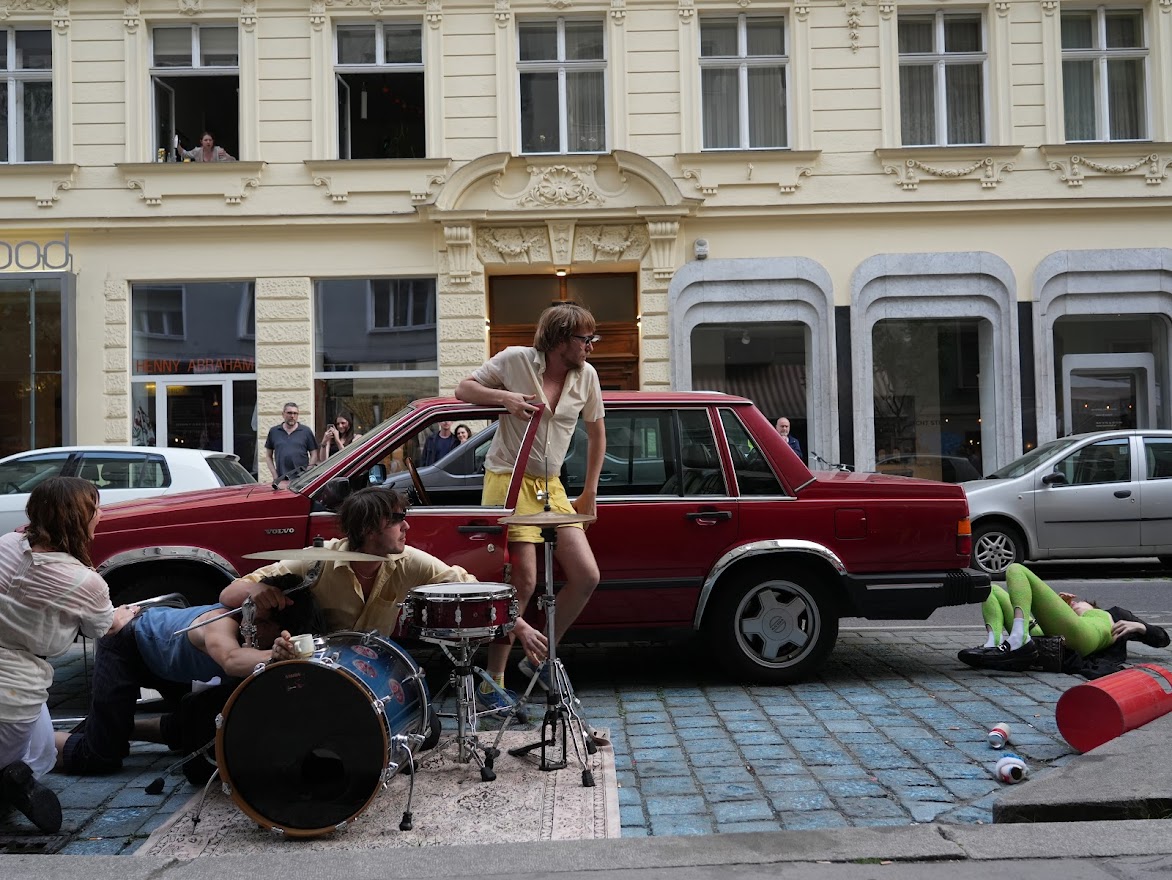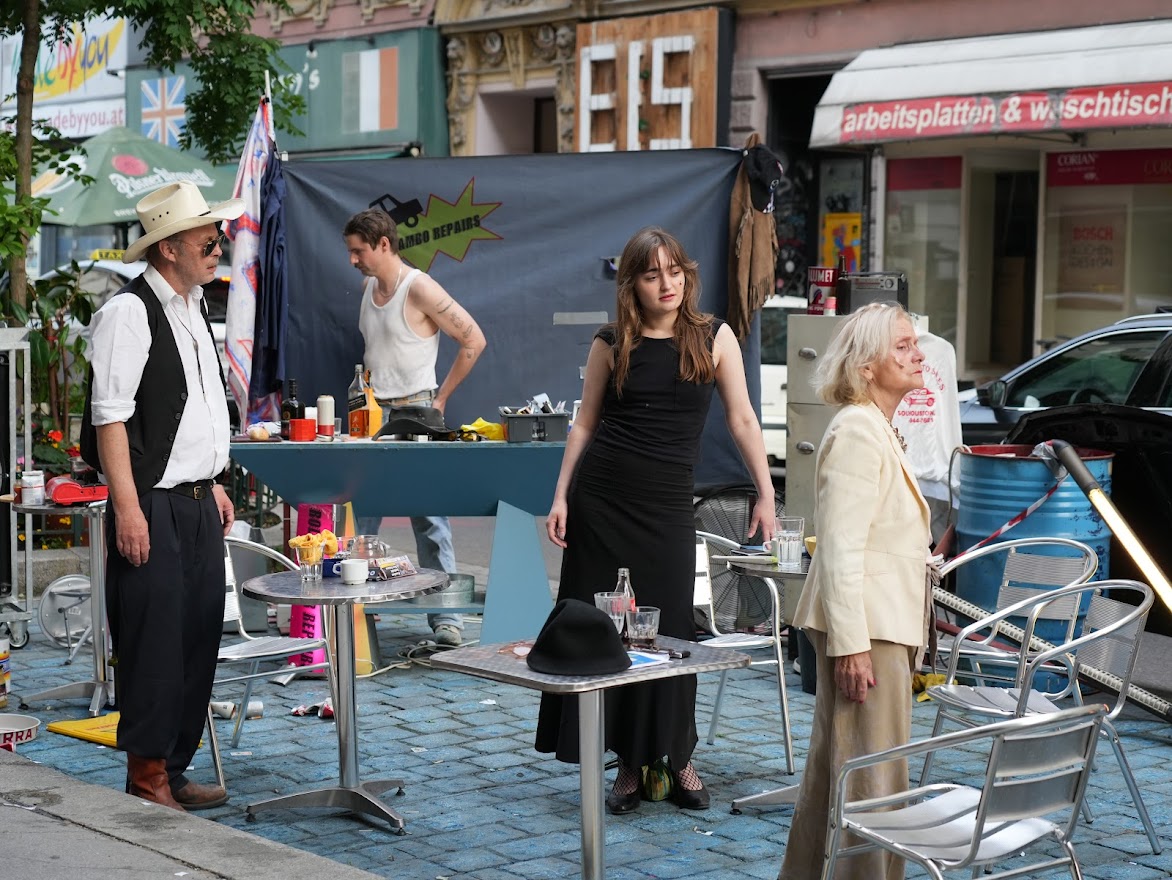 ---
»O RAMBO«
ist eine Theaterproduktion für die Straße.
Die Schleifmühlgasse dient dabei als Bühne. Das Publikum sitzt auf einer Tribüne in der Galerie discotec, deren großes Schaufenster als Rahmen des Geschehens dient.
Die Darsteller:innen sind mikrofoniert. Was sie sagen, während sie sich ins Straßengeschehen mischen, hört nur das Publikum in der Galerie – es sind die kleinen Geschichten in einer komplizierten Welt, mal unbemerkt, mal skurril, intim und komisch.
Während das Publikum die Schleifmühlgasse im Blick hat, werden die Szenen durch die Schnitte im Sound definiert. Es mischen sich Geräusche, wie das Anzünden einer Zigarette mit dem Kaugummischmatzen eines kleinen Jungen und den Stimmen eines streitenden Paares.
So wandert der Blick von Figur zu Figur - vom angrenzenden Café, ins vorbeifahrende Auto, bis zu dem Fenster auf der anderen Straßenseite. Unsere Figuren sind Suchende. In ihrer Suche sind sie alle gleich. Sie straucheln durch ihr bedeutungssüchtiges Leben, in diesem Augenblick ihres Daseins, in dem wir sie beobachten dürfen.
Musikalisch begleitet wird die Produktion von Roman Gessler, Florentin Scheicher und Florian Röthel, auch bekannt aus der Wiener Band Buntspecht.
mit Julian Binder, Rudi Froech, Roman Gessler, Vasilisa Grebenshchikova, Werner Jakits, Zoe Kaja Kursawe, Leander Leutzendorff, Lili Maritta Malmberg, Victoria Nikolaevskaja, Florian Röthel, Philipp Pess, Henrietta Rauth, Florentin Scheicher, Hermine Schwaisst
Sound und Live-Mischung
Max Szakaly, Ferdinand Doblhammer
Szenenbild
Philipp Pess
---
︎ felixmaria.com
---
03
---
limbs & tools
27.4.2023– 11.5.2023
---
---
---
The exhibition
limbs & tools
@discotec invites you to ponder about fluid bodies accumulating and acclimating in
pluralities according to their technical environments: the fluid as liquid, the fluidum as medium & message and habitat that shapes bodies and swarms.
the fluid border between one and two
one fluid becoming two becomin gone
where do you begin where I end within you
we are inside out of each other
streaming liquids of interplay accumulating in iridescent light
our fluid as image , the fluidum as message
we are surface
(Margareta Klose, fluid poem)
︎
evabalayan.com
︎
kojeklose.com
︎
peter.varnai_animations.com
---
02
---
Broth
Bucket
09.03.2023–1.4.2023
---
Philipp Pess ︎
---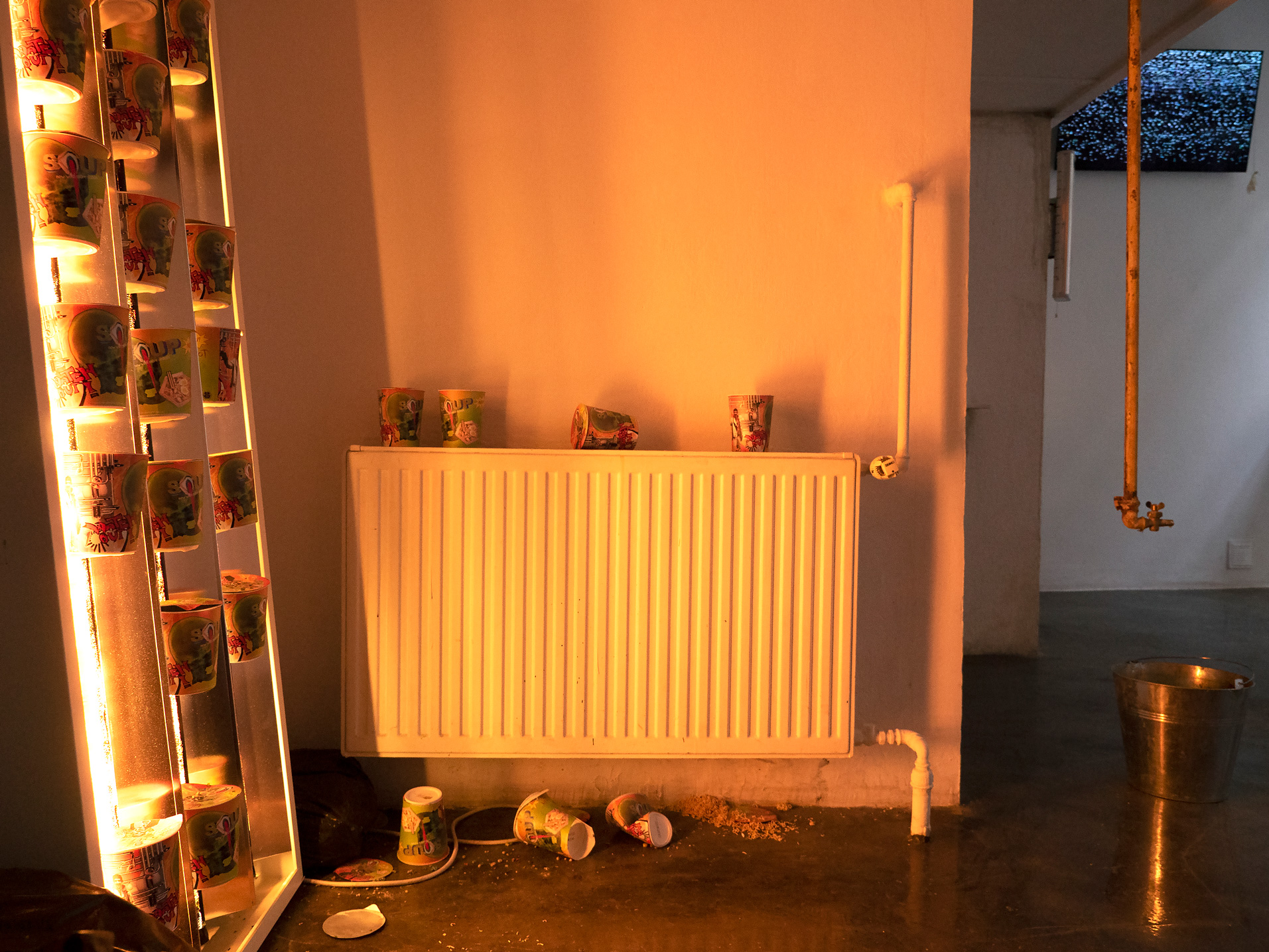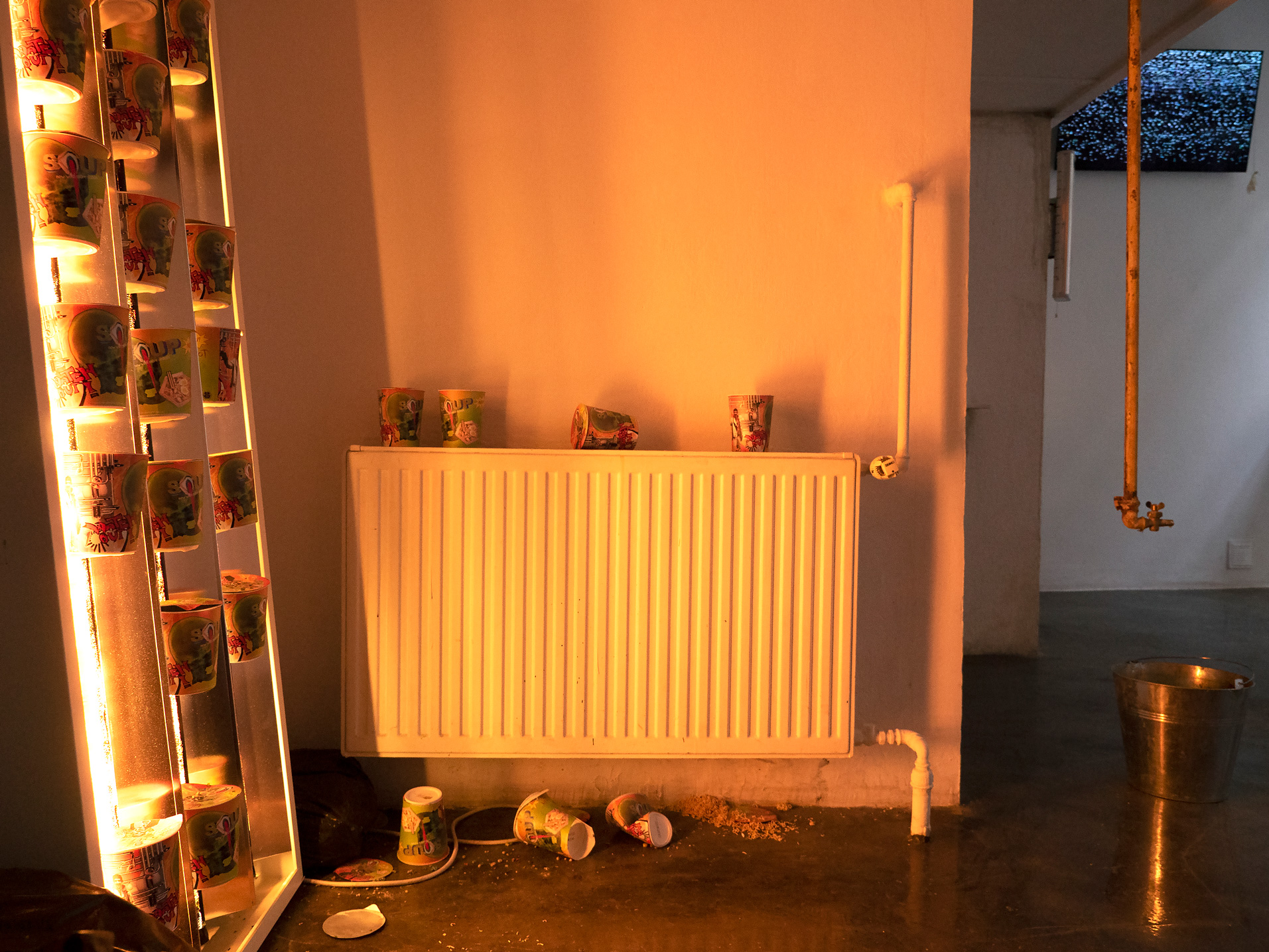 ---
Philipp Pess is breaking boundaries between Performance, Mixed Media Installation and Set Design. With Broth Bucket, Pess takes us on a culinary journey through dantesque landscapes. Inspired by the taste of fried floppy disks, NFT´s
and 4D polygons, he succeeds in suffocating the longing for a peaceful world in the delusion of self-optimization.
The success of Pess' Broth Bucket has attracted internationally acclaimed food bloggers, filmmakers and a significant fan crowd. So don't be disturbed by camera crews and masked Pess' supporters while eating, on what will surely become an unforgettable evening at the Broth Bucket. Bon Appetit! Savoir vivre at discotec! 10/10
special contribution: Leon Höllhumer
︎ philipppess.com ︎
---
01
---
The
Good
Place
26.1.2023– 22.2.2023
---
Kiss Balázs Ágoston ︎Zsolt István Enyedi ︎ Andrea Mikyska MIU ︎ Lani Kotz ︎ Ulla Rauter ︎
---
---
The Invitiation ︎
---
The first exhibition at discotec features a selection of works by Austrian and international artists - a gateway environment, populated by objects that merge into one another, finding themselves in ambiguous, transitory situationsAll of them exist in time; some are permanent, others ephemeral, but all are characterized by a shifting provisional state.
"In the eyes of many human beings, life appears to be a unique and special phenomenon. There is, of course, some truth to this belief, since no other planet is known to bear a rich and complex biosphere. However, this view betrays an "organic chauvinism" that leads to underestimate the vitality of the processes of self-organization in other spheres of reality. It can also make us forget that, despite the many differences between them, living creatures and their inorganic counterparts share a crucial dependence on intense flows of energy and materials. In many respects the circulation is what matters, not the particular forms that it causes to emerge."
[excerpt from "A thousand years of nonlinear history", by Manuel DeLanda]
︎ agostonbalazs.com ︎
︎
behance.net/zsoltenyedi ︎
︎
andreamikyska.com ︎
︎
sdfghhh.exe ︎
︎
ullarauter.com ︎